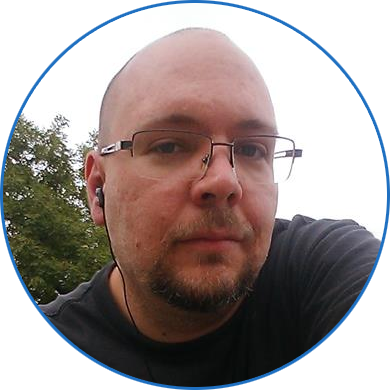 Hi, I'm Nathan, the co-creator of Podcast Blastoff and main content creator, here at the site. I've been podcasting since late 2008, and I still love it today, as much as I did when I started. Maybe even more. Podcasting has opened more doors for me and my career than pretty much anything else. And I know it can do the same for you.
I'll tell you a little bit more about myself, later on, but I'd like to first tell you what you can expect to get from this site, in the future.
First of all, this is a business site, so we do have a product to sell. That product is BlastPod, a podcast hosting and website solution, all-in-one. But, that will not be the majority of what I hope to populate the site with. I love podcasting, and I love helping other podcasters become successful at their craft, BlastPod is just one way that I am able to do that. But, there are many others, and those other ways will be posted here, as we continue to build.
We already have a free course available that walks you through the five biggest secrets that can set your podcast up for success. You can enroll in that course, for free, by clicking here. But, that's really just the tip off the iceburg, as far as what I've got planned. As you read this, I am working on some other courses, designed to make your podcast stand out from the crowd. Most of these courses will be video based, and they will be aimed helping your podcast sound great, and deliver great content.
Getting quality audio does not have to cost you an arm and a leg. In the very near future, I will be releasing articles and videos on how to get great sound, on any budget. Besides making sales, teaching you how to get a great sounding podcast will be my highest priority with this website.
Another exciting thing that we are working on is the new blab-casts episodes. These are interactive lessons, complete with Q and A segments that will be posted here, for all to enjoy. If you would like to be notified of when these blabs will take place, sign up for our newsletter in the form, below.
Ok, so, now that you know a little about what I'm working on, and what you can get by sticking around, I hope you don't mind if I tell you a little about me, and why I am so passionate about podcasting.
Growing up, I always wanted to be a radio disc jockey. I remember two movies that really sold me on the idea. The first was a movie called Warriors, and the second was a flick called Pump Up The Volume. Those two movies really impressed upon me the power of sitting behind a microphone. A third one, that should probably not be ignored, was Good Morning Vietnam. So, from very early on, I was certain that I would someday be behind the microphone.
At some point, my path kind of diverged. When my little brother and I were in our teens, we started getting into rap music. It was the music of the culture we grew up in, and we both found an innate talent for the art form. It was not what I imagined I would be doing, but it was where I found myself.
For most of the late nineties, and the early 2000's, all of my free time was spent in the recording studio, learning the craft of audio engineering. We recorded 4 albums and did guest spots and plenty of other albums, before my little brother passed away, in 2012. Since then, it has been hard for me to force myself into the studio and cut any new tracks. But the spirit of our work still lives on, in my podcast.
Because of my podcast, I have been able to meet some of the most incredible people. I've met best-selling authors, actors, musicians with gold and platinum records, and hundreds of amazing likeminded listeners to my show. I've also been invited to speak at conferences, been able to consult some of the most brilliant people on the planet, and even monetized my podcast in order to build up a multi-thousand dollar home recording studio.
It has not been all roses, though. Building a solid podcast audience is not always a walk in the park, and I've had my fair share of setbacks. But I've learned as I went, and always kept growing. Today, my podcast is downloaded by thousands of people, is aired on four internet radio stations, two FM terrestrial stations, and a bunch of micro-networks throughout the country. I get to connect with listeners from all around the world, and the impact that I have is worth every single ounce of struggle that I had building up my podcast listener base.
I believe that podcasting is changing the world, for the better. It is tearing down so many of the old gatekeepers in media and education. It is destroying the bottlenecks of the past and putting the power of mass media into the hands of the people. I am astonished by how much podcasting has grown in the past few years, and I see it as only the beginning. And I can't tell you how happy I am to be part of this new media revolution.
But, what really inspires me, is helping people like you get and, and join in the fun. Helping people build their brands reach their customers, build their tribes and reach their goals, that's what most excites me about the potential of podcasting. Having a podcast has been life changing for me, and I know it can be the same, for you. That is why I do what I do. That is the reason for this website, and that is why my team and I built BlastPod.
I hope you stick around, so I can help you reach your podcasting goals.
Nathan Fraser

Podcaster, Entrepreneur, Co-Founder of Podcast Blastoff, LLC.