Does launching your podcast seem overwhelming?

There are so many questions to answer. Where do you host your podcast files? How do you build your website? What plug-ins do you need to buy? How do you install them? Where do you even start? Maybe you've registered a domain and bought some hosting, only to find yourself lost in the database. Your plug-ins don't play well together. Different codes start to conflict with each other. And pretty soon, your folders and files start piling up like a bad episode of Hoarders. It's enough to make you wanna quit, before you've even started. You know your podcast needs a website for anyone to take it seriously. But there has to be a better way. You shouldn't have to be rich and famous just to have a podcast and a good website. So why hasn't anyone designed a podcasting platform with your needs in mind?
Getting your podcast out there should be easy.

When I started podcasting in 2008, it wasn't easy. I had to use (and pay for) lots of different services, just to get my podcast online. It was a pain to manage, and a major drain on my wallet.
Then my site got hacked. I lost all my podcast files. And I almost quit podcasting, altogether.
I was so sick of doing things the old way. And I knew there had to be a better option.
That's when Nick came to my rescue. Nick is the best programmer I know. And "Security" is his middle name.
He helped me recreate my entire site from scratch. No more complicated file systems, no more questionable plug-ins. And no more security gaps. Just a rock solid podcasting platform that's easy to use and looks great.
Now, I run everything from one account, and managing my podcast couldn't be easier. It frees me up to spend time on creating my podcast and growing my audience. BlastPod makes podcasting a breeze.
-Nathan Fraser
Nathan Fraser Show
BlastPod Is Your Complete Podcasting Platform.

Get a professional looking website for your podcast, even if you don't know a single line of code. Pick a template, choose a color scheme, and go. Turn features on and off with the click of a button. BlastPod makes having your own podcast website quick and easy.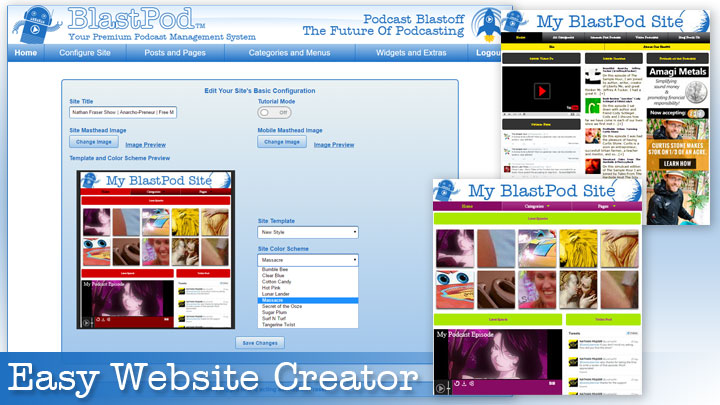 Send your listeners and guests to a website you're proud of. Get podcast hosting, a customizable website, and tons of must-have podcasting widgets. All in one place. All for one low monthly price.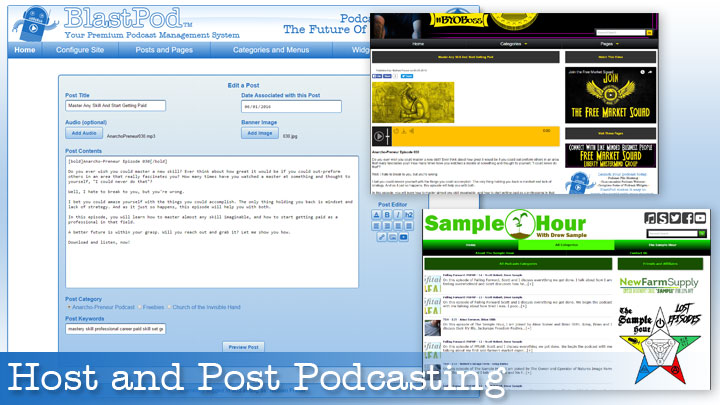 BlastPod gives you everything you need to engage and grow your audience.
Upload your podcast and edit your post on the same page.
Stylize text, add links, embed images and youtube videos with your BlastPod Post Editor.
Schedule episodes to post in the future.
Enable Discus comments for listener feedback.
Social media integration for easy sharing and liking.
Engage your listeners with the Disqus comments section.
Sign up
to get your BlastPod website, today.
Features
Easy Podcast Hosting
Lifetime Storage and Unmetered Bandwidth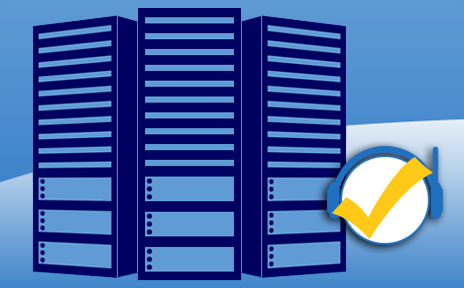 Your listeners need to access your podcast, whenever they want it. We understand how important this is to you, so we provide 99.9% up time. Your podcast will always be available,no matter how many people are downloading them.
No matter how popular your podcast gets, your subscription price will stay the same. Choose how much you wish to upload each month, and never get charged extra for bandwidth usage. We host your podcast episodes for the lifetime of your account.
Premium Website Creator
Create, Customize and Manage Your Podcast Website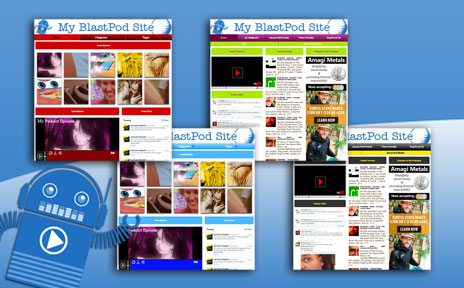 Have your custom podcast website up and ready in minutes. BlastPod make it super easy to control the look and feel of your website. Choose from multiple color schemes and templates, so your website matches your podcast's brand.
Posting new podcast episodes needs to be easy. Our service comes complete with an entire Podcast Management System. This enables you to create, edit, and schedule posts to release at any time. BlastPod makes managing your podcast easy.
Cutting Edge Podcast Tools
Widgets and Features a Podcaster Needs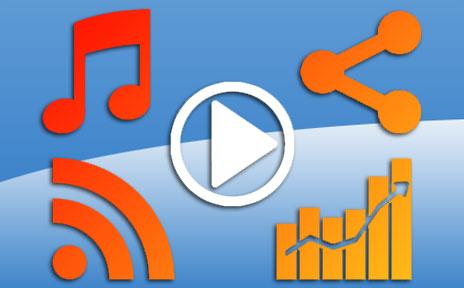 You want your site to look professional. That means you need access to the tools that the pros use.
You need a podcast player that doesn't look like it's out of 2001. You need ways to integrate your social media. You need a way to get your podcast on iTunes and Stitcher. BlastPod gives you all this, and more.
Easy to use RSS Creator to get your podcast listed in iTunes.
State of the art podcast player displays your podcast with style.
Encourage sharing on social media with built in Share and Like buttons.
Display featured videos and episodes with ease.
Integrate your facebook and twitter feeds.
Engage your listeners with the Disqus comments plugin.
Track your downloads and optimize your content to match your listener's preferences.
BlastPod gives you everything you need to build successful podcast website, and grow an engaged listener base.
What users are saying.

Before I started using BlastPod, I was struggling to build a relationship with my audience. I did not have a reliable podcast host or a professional looking website. However, now that I'm signed up with BlastPod, I can confidently send future listeners and guests to my website. I'm loving the new Disqus widget. Listeners can comment and share their thoughts about each episode, enabling me to have direct communication with my audience.
-Drew Sample
The Sample Hour

We just started hosting our podcast on BlastPod, and so far, it's pretty awesome. For the same price we were paying for a single page at our last hosting service, we get access to create a whole website. Matt and I are entertainers. We don't know anything about creating websites. BlastPod makes it easy for us to have an awesome website that we can send our listeners to.
-Michael Wortman
Bayside High and Drunk
BlastPod Service Plans
Podcasters have a variety of needs when it comes to upload limits. So we never re-encode your files, which gives you full control of your audio quality. Whether you do a weekly podcast, a daily podcast, or run a network of podcasts, we've got you covered.
Choose from 3 different Tiers.
Silver Tier - Upload 8 episodes per month*
Gold Tier - Upload 16 episodes per month*
Platinum Tier - Upload 26 episodes per month*
Choose the Tier that's right for you.
Silver
$29.99mo.
250 MB
Monthly Uploads
| Compression | Length | Episodes |
| --- | --- | --- |
| 64K mono | | 16 |
| 128K stereo | | 8 |
Website Creator
RSS Generator
Download Statistics
BlastPod Player
BlastPod Widgets
Disqus Comments
Gold
$44.99mo.
500 MB
Monthly Uploads
| Compression | Length | Episodes |
| --- | --- | --- |
| 64K mono | | 32 |
| 128K stereo | | 16 |
Website Creator
RSS Generator
Download Statistics
BlastPod Player
BlastPod Widgets
Disqus Comments
Platinum
$59.99mo.
800 MB
Monthly Uploads
| Compression | Length | Episodes |
| --- | --- | --- |
| 64K mono | | 52 |
| 128K stereo | | 26 |
Website Creator
RSS Generator
Download Statistics
BlastPod Player
BlastPod Widgets
Disqus Comments
*Based on 60-minute episodes mixed down at 64k, mono.
Frequently Asked Questions
Can I use BlastPod to build my website, even if I don't know how to code or use WordPress?
Yes. BlastPod is made for podcasters who have zero coding experience. You can have a website up and ready in five minutes, without the confusion of having to install and learn WordPress.
Do I have to pay extra for the additional hosting of my BlastPod website?
No, your website comes free with your podcast hosting. No need for additional hosting services.
Can I use a domain name for my website?
Yes. You will get a free sub domain (e.g. mypodcast.blastpod.com). But, if you own a domain name, you can also integrate that with you BlastPod website (e.g. mypodcast.com).
Can I host more than one podcast on a single account?
Yes. You can host multiple podcasts on one account. You could host a whole network of shows, if you wanted. You could even give each podcast its own rss feed, and have an overall feed for the entire network.
Can I use BlastPod to host a video podcast?
At this time, we only offer audio podcast hosting.
Can I integrate a BlastPod site into my current website?
No. BlastPod is a stand alone system designed for creating a new podcasting website.
Is this a WordPress platform?
No. It is not a merely blogging platform that has been converted to work for a podcast. BlastPod is a website manager made exclusively for podcasters.
Can I use WordPress plug-ins on my BlastPod website?
For security reasons, we do not use WordPress plug-ins. We do have integration with a growing number of 3rd party api's. Including facebook, twitter, Disqus and YouTube. We are also working on better integration with email capture tools like Lead Pages and Mailchimp.
Can I change my subscription if I need to?
Yes. You can always upgrade or downgrade your tier, to suit your upload needs. You can also cancel your subscription at any time, with no cancelation fee.
Welcome Aboard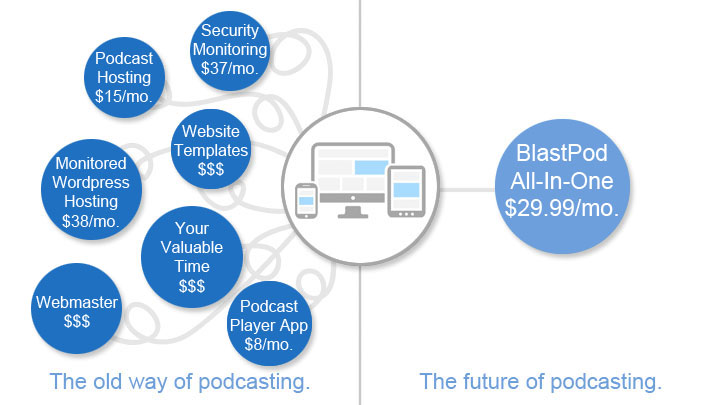 Thank you, for considering BlastPod for your podcast hosting solution. We understand that there are a lot of choices out there, and we appreciate you taking the time to view our service.
Being a start-up does mean that we don't have a mile long testimonial list. We understand that this is might seem like a weak point for us. However, we see it as a strength. As a small business, we can afford to give all our customers the attentions they need and deserve. It also means that our service will continue to grow and be formed, based off of our customers wants and needs.
BlastPod is everything I wish existed when I first started my podcast. Our current customers are loving it, as well. We can't wait to see where it will go, and what our users will build from it.
If being an early adopter and pioneering this new service is not for you, we understand. And we wish you the best of luck, wherever you decide to host your podcast. But, if you're as excited about what BlastPod can do for your podcast as we are, we invite to join us on this journey. We believe that BlastPod is the future of podcasting, and we'd love to have you on board.
Just click below to claim your BlastPod website, and start your podcasting adventure, today.

BlastPod is the easiest way to host your podcast files and manage your podcast website, all in one place. We back this up with a 30 Day Money Back Guarantee.
If you are not 100% satisfied within the first 30 days of opening your BlastPod account, we will refund your entire purchase. No questions asked. All refund requests made within the first 30 days of the account will be respected.